Introduction
Once upon a time I started fact checking books I read, to see if they were trustworthy. I called this epistemic spot checking because it was not a rigorous or thorough investigation; just following up on things I thought were interesting, likely to be wrong, or easy to check. Eventually I became dissatisfied with this. It placed too much emphasis on a binary decision about a particular book's trustworthiness, and not enough on building models. So I started working on something better. Something that used multiple sources to build robust models of the world. This book is part of that attempt
Children in Colonial America (affiliate link) is a compilation of chapters from many authors, all centered around what you would guess from the title. This lowers the predictive value of one chapter for assessing the credibility of the whole book, since they're different authors, but has more than zero value. For purposes of this post, I'm going to look at three chapters. As usual, you can view all my notes in Roam here.
Claims
Chapter 1: Indian Children in Early Mexico
Claim: Mexico was ruled by Spain from 1521-1821, and was known as New Spain during this time (p28).
Verdict: True (source). This is not very impressive to get right, except that I originally recorded it as 1831 and briefly went very down on the chapter. So we know I can catch both embarrassingly obvious factual errors made in books, and my own  embarrassing typos.
Claim:  In the 1700s Mexico City had 112,000 people, mostly natives, the largest city in the Americas (p28).
Verdict: Highly defensible but unproven. This is almost exactly what wikipedia reports an inaccessible source reports a primary source recorded in 1793, although 112,926 rounds to 113k, not 112k. It's not at all clear to me how good this census was, given that even modern censuses have a lot of problems.
Additionally, I'm not thrilled about her using one number to refer to the population throughout an entire century. According to wikipedia the population varied a lot, probably due to competition between disease and immigration, but possibly due to to changes in methodology.
This is still well over the recorded populations of various future-USA cities recorded in the same decade.  However that's still sensitive to definitions- how do you draw the boundaries between a city and its surrounding farmland?
Claim: In the 1700s New Spain had 6m inhabitants.
Verdict: Right order of magnitude. This graph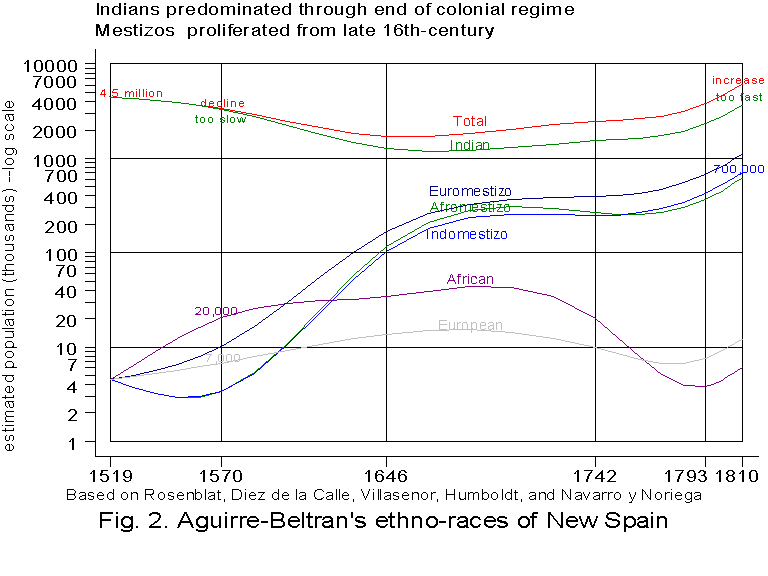 which is originally from a Spanish-language work I read about here estimates about 1/3 lower than that, but admits that it's order-of-magnitude at best.
Claim: Aztecs buried newborn's umbilical cord under the hearth (girl) or battlefield (boy) (p29).
Verdict: Well justified (source 1, 2, 3). AFAICT everyone's ultimate source for this is the Florentine Codex, which has all the problems noted above.
Claim:  "Children were the most apt to die in the epidemics because they had no natural immunity" (p36).
Verdict: Close enough. Ignores the fragility of old people and there are flukes like the Spanish Flu, but close enough.
Claim: "Probably the happiest moments for boys and girls were the processions, fireworks, and communal meals that took place about eight times a year in the Indian pueblos." (p37), "another favorite time for Indian youngsters was the feast of the patron saint of their home towns." (p38)
Verdict: I don't know how the author could possibly know this with the information they have.
Claim: "The Jesuits were expelled by Charles III in 1767 from all of the Spanish territories, resulting in the exile of four hundred priests from New Spain, one-third of whom were teachers." (p39).
Verdict: Probably wrong (evidence compiled in Roam). There was definitely an expulsion, but the more common number given for number of exiled priests was 678, and that comes from an enumerated census. It's possible these were referring to different geographic areas, but the book specifically refers to New Spain, not just Mexico. It's possible it was referring to just a subset of priests- but it specifically names priests and teacher priests. It's possible they meant some third thing I haven't thought of, or have a different sources, but in that case they really need to provide it.
Chapter 2: Colonizing Childhood: Religion, Gender, and Indian Children in Southern New England, 1600–1720
Claim: New England colonists used indentured servitude as a way to both extract labor and indoctrinate Native American children (p48).
Verdict: Seems likely but leaves out important facts, such as the fact that women were also forced to provide labor in New England, and native men were sold into slavery in the Bahamas (wikipedia).
It's a little hard to tell what source the chapter is using for this- there's a citation 80% of the way through a very long paragraph that lists several sources. The most relevant looking one, Colonizing the Children: Indian Youngsters in Servitude in Early Rhode Island, is focused 50-100 years later than this book, and mentions Christianity once. The Impact of Indentured Servitude on the Society and Culture of Southern New England Indians, 1680-1810 is also set later than this chapter.
Claim: "In a reflection of the importance of religious practice to the major transitions in an individual's life, Indian parents and kin actively assisted children in cultivating relationships with a range of powerful supernatural entities." (p49)
Verdict: Dubious and undifferentiated.
This quote is a stand-in for the numerous times the author talks about the importance of religion to Native New England children during colonial times. And I don't doubt that it was, because it's important to most if not cultures. It certainly was to the Puritan children that are the most natural comparison group. It's ambiguous if the chapter means to claim the native children were especially religious, and if so, how we know that.
Claim: Edward Winslow reported Wampanoag beliefs about a deity who created life, Keihtan. (p51)
Verdict: True but waaaaaaay to much work to verify (source).
How could this take so long to verify, you might ask yourself? It's just reporting that a dude said a thing, surely you just need to point to the page where he said it and everyone can go on with their day. Alternately, it's a pretty distinct word, can't you just google for it?
Yes, either one of those would be easy, but:
The author continued their delightful pattern of putting all their citations in a single superscript that is almost, but not quite entirely, at the end of a paragraph, rather than where he's asserting the thing.
He spelled the damn name differently than Winslow.
The misspelling isn't a big deal, phoneticizing a language that may not even have a written form is not easy, and this deity has lots of names. But the combination of the two meant I lost 45 minutes of my life to tracking down this simple fact that wasn't even relevant to my interests.
Claim: English missionaries established Praying Towns, their version of missionary villages in the mid-1600s
Verdict: Obviously true. After the last one I'm just going to accept a tertiary source. There is some conflict among sources about when they started (notes in Roam), which I think is more about the definition of "start" than about when specific things actually happened.
Chapter 3: Imperial Ideas, Colonial Realities Enslaved Children in Jamaica, 1775–1834
Claim: Children accounted for a "significant" portion of the slave trade, especially compared to other  (p63).
Verdict: Vague but true (Roam notes). The exact number varies based on time, origin, and destination so it's not clear how meaningful an average is, but 25% looks roughly correct.
More specifically: Was the Slave Trade Dominated by Men? (Roam notes), a survey of mostly British vessels, reports 12-40% of imported slaves being children, depending on the era, based on a survey of ships that covers 8-10% of all slaves transported to the New World (my guess is this is based on the population that arrived alive, not who was on the boat when they left Africa, but it's not specified).
Sex Ratio, Age and Ethnicity in the Atlantic Slave Trade: data from French shipping and plantation records (Roam notes) finds an overall average of 26.6% children, varying from 9-43% using the standard definition of child in a slavery context at that time, which is "shorter than 4'4".
26% or even 12% is not trivial, but it's especially striking when compared to people arriving in the New World as indentured servants, which really were overwhelmingly adult and male, something like 70-90% (although the numbers aren't quite comparable; I believe European immigrants use their actual birthdates to determine age, as opposed to height) (source: Was the Slave Trade Dominated by Men? )
Claim: Children were historically used as sources of labor, including in Britain, in the 1700s and 1800s
Verdict: True, although very hard to find hard numbers for (Roam synthesis). The best estimate I could find was this summary article which cited multiple papers I could not access. It gives the following numbers for child participation in mining and textiles, which it claims were the most popular industries for children

The demographic distribution of Industrial-Revolution Great Britain is also very hard to find, but the following is implied to be the result of a census (source):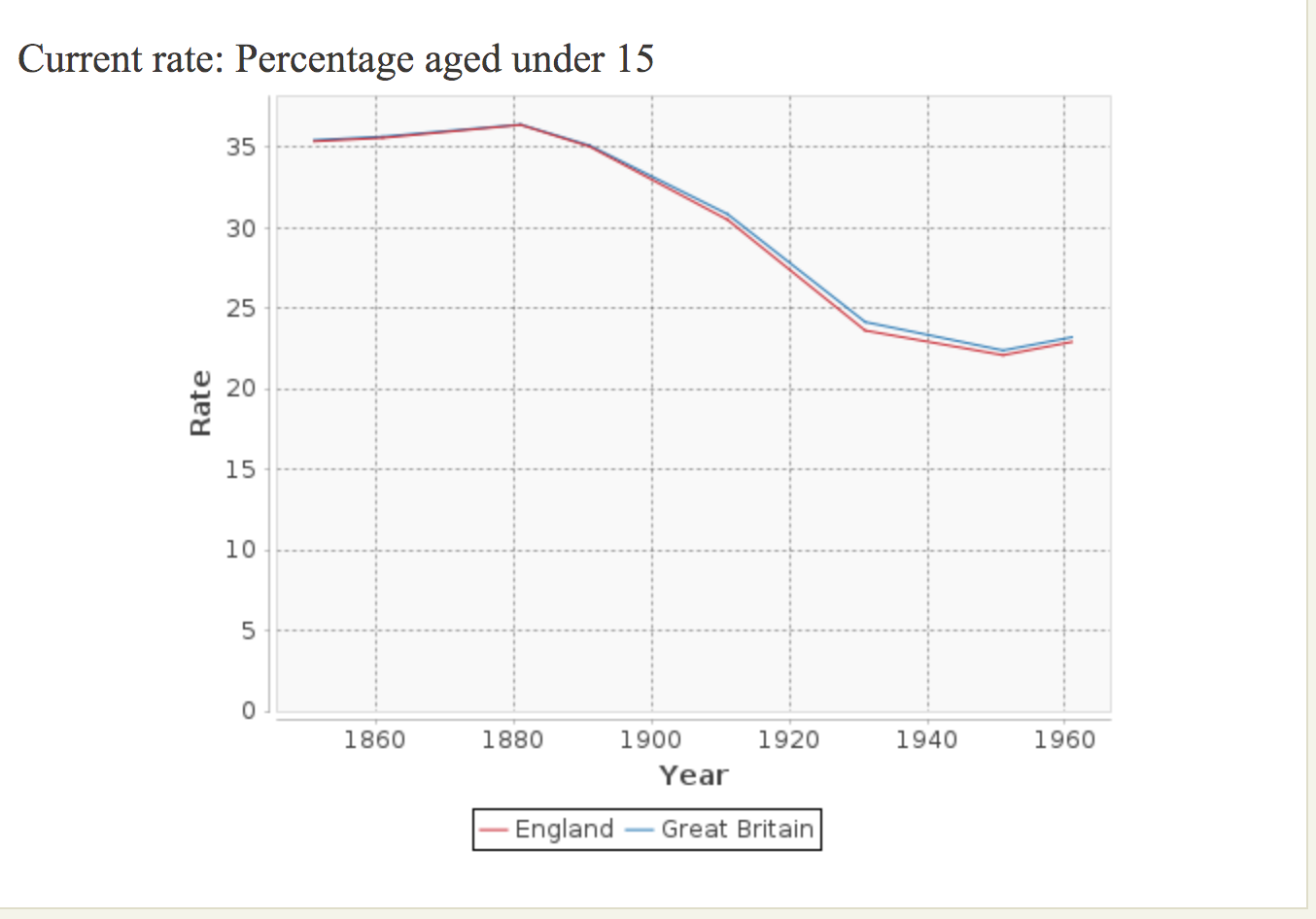 If you assume that 1/3 of children were between 10 and 15, and that all working children were between 10 and 15, that would make their labor force participation in mining and textiles (very) approximately equal to their proportion of population in 1860. Of course this is very rough- God knows what the demographics of children were during the Demographic Transition, and some children started working younger than 10. But this does suggestion that children as a whole were less likely to participate in work – at least, work outside the home; it's not clear how they're counting work on the family farm.
Claim: "the age and social standing of the enslaved are two factors, among others, that would also influence attitudes and reactions to enslavement in the Americas."
Verdict: Unverified by I believe it. The original source was inaccessible and verifying it was proving to require a lot of general reading that didn't bear on my question, so I stopped after 15 minutes of trying.
Process Notes
I had a really hard time verifying anything interesting in Indian Children in Early Mexico, because all of the primary and deeper secondary sources are in Spanish or Nahuatl, neither of which I read. I say "sources", but it appears there's only one real source for any information on pre-Spanish Aztecs, which is one missionary (Bernardino de Sahagún), who wrote a general history of the Aztecs, known in English as either the Florentine Codex or The General/Universal History of the Things of New Spain. At least, that's what everything I read seemed to be relying on, when they gave a source at all. Parts of the codex are available for free in English, but not the relevant ones. Even assuming I could read it, one dude whose official mission was very much to destroy Aztec culture and replace it with his own probably introduced biases to his reports of their culture.
Sometimes I would luck out and a source would be in English but inaccessible. What I could verify with English sources was pretty limited to names and dates.
Colonizing Childhood… brings up the question: how long should I spend verifying minor claims? There's a fair number of claims I go into with the attitude of "this ought to be easy to find." You could argue these are low value because it's very unlikely the author screwed up a basic name or date- but if that's true, it would be a very bad sign about the author/work if they did screw it up. And surprisingly often, there's debate about even very simple facts. E.g., different sources listed different start times for Praying Towns. These sources didn't differ in their facts, but in what they counted as the start- the first sermon or the first town incorporation. I wouldn't have learned about those distinctions if I hadn't looked up an "easy to find" fact.
Overall, I was really not impressed by how little context this chapter gave for the tribes it talked about, primarily the Wampanoag. I never would have guessed that they were only semi-sedentary (which is important context for the missionaries' efforts to move them into Praying Towns) or matrilineal, if I hadn't sought out other sources. It could be aimed at a more educated audience than me- but the book covers a really wide geographic and social range, and it seems unfair to expect people to be experts in all of them.
Imperial Ideas… was flat out a better chapter than the other two.
It cited sources such that I could actually find them and match them to claims.
It had a delightful pattern of making a general claim and then backing it up with specific instances. E.g.


young African children were available for sale on the island. In 1792, in a letter reporting the sale of the slave cargo on the ship Ruby, the Jamaican merchant John Cunningham wrote, "I sold 129 slaves. . . . There were 45 boys and girls . . . many not more than 8 or 9 years of age."9 Over 30 percent of the captives sold from this ship were children.
I found myself marking more claims as potential epistemic spot checks for Imperial Ideas… than I did for the other two chapters. In fact, notetaking was just easier and more free flowing with this chapter. I'm not sure how to operationalize this: punishing books for taking more effort to read has some obvious failure modes.
Actually this brings up something I've been wanting to talk about for a while, which is how Epistemic Spot Checks have changed my definition of easy. Time was a book's easiness rating was based on how much effort I needed to put into understanding the author. It rewarded spoon feeding me conclusions and punished provoking certain kinds of thought. Now easiness is much more based on how much effort I have to put into verifying the author's claims.
I originally didn't record any notes from Was the Slave Trade Dominated by Men? about indentured servitude, because it wasn't strictly relevant to the question I was asking. Luckily I wrote this up the same night and noticed that it seemed worth including.
Verdict
Indian Children in Early Mexico got most of its basic facts right, or at least defensible, and had one probable error. I couldn't verify anything interesting because of language barrier.
Colonizing Childhood: Religion, Gender, and Indian Children in Southern New England, 1600–1720 also seems fine, although it was more a jumble of facts than a cohesive thesis, and the closest thing it had to a thesis seemed to indicate a specialness that was not backed up by facts.
Imperial Ideas, Colonial Realities Enslaved Children in Jamaica, 1775–1834 was pretty great. It backed up its claims better than the other two and provoked more thought in me.
Many thanks to my Patreon patrons and the Long Term Future Fund for funding this post.